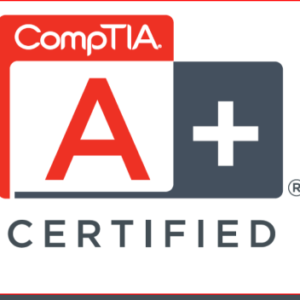 | Course Name | Start Date | End Date | Days | Session Dates | Time | Tuition | Hours | Register |
| --- | --- | --- | --- | --- | --- | --- | --- | --- |
| A+ | 26-Mar-19 | 25-Apr-19 | Tues, Thurs | 3/26, 3/28, 4/2, 4/4, 4/9, 4/11, 4/16, 4/18, 4/23, 4/25 | 6:00 PM - 10:00 PM | $999.00 | 40 | Register |
Overview
CompTIA A+ Certification
(We are teaching the new A+ curriculum related to exams 220-901 and 220-902)
CompTIA A+is a very popular and highly demanded computer industry certification.
Held by over 1​ million IT professionals worldwide, CompTIA A+ is the most essential IT certification for establishing an IT career. If you're new to the IT industry, this will help you put your best foot forward. And if you're already an IT professional, the CompTIA A+ certification validates your skills and can boost your career.
A+ establishes best practices in troubleshooting, networking and security across a variety of devices to set the stage for IT careers. As businesses and governments worldwide continue to adopt mobile and cloud technology, they trust A+ certified professionals to keep their devices running and organizations working smoothly. CompTIA A+ is compliant with ISO 17024 standards and is approved by the U.S. Department of Defense to meet directive 8140/8570.01-M requirements.
A+ certification validates the latest skills needed by today's computer support professionals. It is an international, vendor-neutral certification recognized by major hardware and software vendors, distributors and resellers. A+ confirms a technician's ability to perform tasks such as installation, configuration, diagnosing, preventive maintenance and basic networking. The new exams also cover domains such as security, safety and environmental issues and communication and professionalism. This hands-on course will teach you to effectively plan, install, configure, administer, and troubleshoot information systems in a wide range of computing environments. Through real world examples and professional guidance, students will gain a basic foundation in computer hardware and software across many platforms. This course is designed for individuals who have some basic computer experience and wish to prepare for introductory roles in the installation, configuration and maintenance of computer hardware, software and networks. Related experience might include familiarity with Microsoft Windows, Microsoft Office and the Internet.

Domain 1: Hardware
Domain 2: Networking
Domain 3: Mobile Devices
Domain 4: Hardware & Network Troubleshooting
Domain 5: Windows Operating Systems
Domain 6: Other Operating Systems & Technologies
Domain 7: Security
Domain 8: Software Troubleshooting
Domain 9: Operational Procedures
Request Additional Information